Engineering Fold Leaflets
Folded Leaflets
Size - A4 and A3
Choose from:
130gsm Gloss
170gsm Gloss
170gsm Silk
Engineering Fold Leaflets
Choice of Gloss and Silk Papers with Free Delivery
Product Information
Size
A4 Folded - 210mm x 297mm
A3 Folded - 297mm x 420mm
Paper
130gsm Gloss
170gsm Gloss
170gsm Silk
Turnaround
See Service Levels
Delivery
FREE to one UK mainland address
Leaflet Sizes
A4 Folded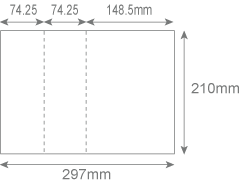 A3 Folded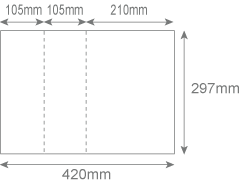 Step 1
Select Print Options
Step 2
Place Online Order
Step 3
Upload Your Artwork
What Our Client's Say
I placed an order on Thursday. I wanted to contact you to say thank you for such a fantastic service. I received my cards the next day and I am over the moon with them and the service I received, I will certainly be using you again and will happily recommend you to friends and family.
Hi, just wanted to thank you for your amazing service! When they arrived this morning i didn't believe it I shall certainly use you again and highly recommend you.
Dear Sir/Madam, Received goods yesterday. Excellent all round service and product. Faster than expected. I will certainly reccomend you and use you again when required. I hope soon!
Received this morning. Brilliant.
Thanks everyone for all your printing help over the last year. We really appreciate all you do for us. A first rate service at every level.
Fantastic service! Will definitely recommend. Thank you for the speedy and professional service!
Thank you for the fast turnaround. Cards arrived today and we are very pleased with them.
Hi, I just wanted to say that I received the cards earlier in the week and I am very pleased with them and would have no hesitation in recommending you or using your services again.
Hi, Just a quick note to let you know that my business cards have been delivered and I am absolutely delighted with them! Thank you once again for all your help. I look forward to working with you in the future.
Thank you - goods received - very pleased with the cards and presentation - thank you.
Our Service
UK Customer Support
Call us on 01582 410741 if you have a question.
Top Quality Printing
Printed in the UK using the latest equipment.
Free Delivery
To UK mainland addresses.
Our engineering fold leaflets are printed in full colour on a choice of 130gsm gloss, 170gsm gloss and 170gsm silk paper and folded to size.
Others types of folded leaflets we produce are:
Single Fold, Letter Fold, Concertina Fold and Gate Fold
We are a UK based company who specialise in printing cheap full colour folded leaflets.
Our low cost colour engineering fold leaflets are used as brochures by many companies to promote their business. Cheap engineering fold leaflets are also used as takeaway menus by Indian, Pizza, Chinese, Southern Fried Chicken, Kebab and Fish & Chip takeaways and restaurants.
Prices are from supplied print ready .pdf and are plus VAT where applicable.
See our artwork guidelines for more information on supplying pdf files.
Engineering Folded Leaflet Printing
with FREE UK Delivery
Engineering Fold Leaflet Printing
If your company is creating equipment, gadgets or any product that requires technical documents, the engineering fold is an ideal addition to your marketing and other purposes. The engineering fold is first made by folding the paper on itself and with one end folded in half again going against the direction of the first fold. This creates an open flap that can be punched with holes or bonded to be included in technical documents. If you are looking for high quality engineering fold leaflet printing, you can take advantage of our services at QuadrantPrint.co.uk.
Our company offers high quality printing services for leaflets, flyers, stationery, and other marketing materials and paper products that you need for your business. We have a wide range of printing options and we are proud to offer the more modern computer to plate technology that minimizes the cost of printing as well as use of harmful chemicals. You can do everything in one smooth flow. Send to us your artwork for the engineering fold leaflet printing and order online. We use high quality paper to best suit your needs and we make sure that the colours are based on your expectations.
Our fast delivery is one of the best in the industry. We take pride on our fast yet high quality service. If you have any concerns or queries regarding our printing services, do not hesitate to contact us. We offer high quality, affordable and consistent output that is applicable for small to big projects.