From £37.00
Folded Brochures
Size - A4 and A3
Choose from:
170gsm Gloss/Silk
250gsm Gloss/Silk
300gsm Uncoated
Folded Brochure Printing
Choice of Gloss, Silk and Uncoated Paper and Card with Free Delivery
Product Information
Size
A4 Folded - 210mm x 297mm
A3 Folded - 297mm x 420mm
Paper
170gsm Gloss/Silk
250gsm Gloss/Silk
300gsm Uncoated
Fast Dispatch
Order by 10am Mon-Fri for Delivery the Next Working Day
Delivery
Free to one UK mainland address
Brochure Sizes
A4 Folded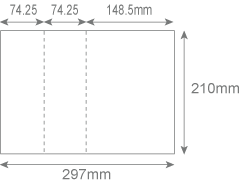 A3 Folded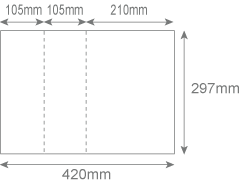 Step 1
Select Print Options
Step 2
Place Online Order
Step 3
Upload Your Artwork
Please Select Your Folded Brochure Printing Options
Order Now for delivery
on Wed 6th Jul
Missed the 10am deadline?
Call us on 01582 410741 as we may still be able to dispatch today.
What is Creasing?
Creasing is where the paper fibres are weakened along the fold line to avoid cracking when folding. This is particualrly important when there are printed areas running through the fold as it avoids the print cracking when folded. We use the highest quality matrix style creasing which gives a better finish than scoring.
What Our Client's Say
I placed an order on Thursday. I wanted to contact you to say thank you for such a fantastic service. I received my cards the next day and I am over the moon with them and the service I received, I will certainly be using you again and will happily recommend you to friends and family.
Hi, just wanted to thank you for your amazing service! When they arrived this morning i didn't believe it I shall certainly use you again and highly recommend you.
Dear Sir/Madam, Received goods yesterday. Excellent all round service and product. Faster than expected. I will certainly reccomend you and use you again when required. I hope soon!
Received this morning. Brilliant.
Thanks everyone for all your printing help over the last year. We really appreciate all you do for us. A first rate service at every level.
Fantastic service! Will definitely recommend. Thank you for the speedy and professional service!
Thank you for the fast turnaround. Cards arrived today and we are very pleased with them.
Hi, I just wanted to say that I received the cards earlier in the week and I am very pleased with them and would have no hesitation in recommending you or using your services again.
Hi, Just a quick note to let you know that my business cards have been delivered and I am absolutely delighted with them! Thank you once again for all your help. I look forward to working with you in the future.
Thank you - goods received - very pleased with the cards and presentation - thank you.
Our Service
UK Customer Support
Call us on 01582 410741 if you have a question.
Top Quality Printing
Printed in the UK using the latest equipment.
Free Delivery
To UK mainland addresses.
Same Day Dispatch
Order by 10am (Mon-Fri) for same day dispatch.
Folded Brochure Printing
Whether you are advertising a new business, distributing a takeout menu, campaigning for election or doing a spot of charity fundraising, you will want to get your message across with a printed flyer. A folded brochure allows you to say more over a smaller space, and with a variety of different styles to choose from, you can make your flyer really stand out.
Choose an A4 folded brochure, which measures 210mm x 297mm when opened flat, or an A3 version measuring 297mm x 420mm and maximise your message by printing on both sides.
We offer standard single fold brochures with a single crease along the middle - just specify whether you want your printing to be horizontal or vertical. A letter fold has two creases, and allows you to open out your brochure into three parts - ideal for menus or leaflets which feature columns or lists. Folded brochure printing will take the style and size of your flyer into account, so you can really make the most of your space.
A concertina fold also has two creases, but opens in an accordion style. Ideal for A3 sizes, this style is still small enough to fit through any letterbox. Likewise, a gate fold or an engineering fold style will give you a wider overall leaflet which can be folded neatly down to size.
All folded brochures can be printed on 170gsm or 250gsm gloss or silk paper and all printing is in full. A heavier 300gsm card option is also available.