Gate Fold Leaflet Printing
Folded Leaflets
Size - A4 and A3
Choose from:
130gsm Gloss
170gsm Gloss
170gsm Silk
Gate Fold Leaflets
Choice of Gloss and Silk Papers with Free Delivery
Product Information
Size
A4 Folded - 210mm x 297mm
A3 Folded - 297mm x 420mm
Paper
130gsm Gloss
170gsm Gloss
170gsm Silk
Turnaround
See Service Levels
Delivery
FREE to one UK mainland address
Leaflet Sizes
A4 Folded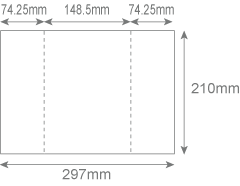 A3 Folded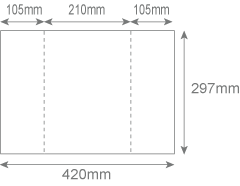 Step 1
Select Print Options
Step 2
Place Online Order
Step 3
Upload Your Artwork
What Our Client's Say
I placed an order on Thursday. I wanted to contact you to say thank you for such a fantastic service. I received my cards the next day and I am over the moon with them and the service I received, I will certainly be using you again and will happily recommend you to friends and family.
Hi, just wanted to thank you for your amazing service! When they arrived this morning i didn't believe it I shall certainly use you again and highly recommend you.
Dear Sir/Madam, Received goods yesterday. Excellent all round service and product. Faster than expected. I will certainly reccomend you and use you again when required. I hope soon!
Received this morning. Brilliant.
Thanks everyone for all your printing help over the last year. We really appreciate all you do for us. A first rate service at every level.
Fantastic service! Will definitely recommend. Thank you for the speedy and professional service!
Thank you for the fast turnaround. Cards arrived today and we are very pleased with them.
Hi, I just wanted to say that I received the cards earlier in the week and I am very pleased with them and would have no hesitation in recommending you or using your services again.
Hi, Just a quick note to let you know that my business cards have been delivered and I am absolutely delighted with them! Thank you once again for all your help. I look forward to working with you in the future.
Thank you - goods received - very pleased with the cards and presentation - thank you.
Our Service
UK Customer Support
Call us on 01582 410741 if you have a question.
Top Quality Printing
Printed in the UK using the latest equipment.
Free Delivery
To UK mainland addresses.
Our gate fold leaflets are printed in full colour on a choice of 130gsm gloss, 170gsm gloss and 170gsm silk paper and folded to size.
Others types of folded leaflets we produce are:
Single Fold, Letter Fold, Concertina Fold and Engineering Fold
We are a UK based company who specialise in printing cheap full colour folded leaflets.
Our low cost colour gate fold leaflets are used as brochures by many companies to promote their business. Cheap gate fold leaflets are also used as takeaway menus by Indian, Pizza, Chinese, Southern Fried Chicken, Kebab and Fish & Chip takeaways and restaurants.
Prices are from supplied print ready .pdf and are plus VAT where applicable.
See our artwork guidelines for more information on supplying pdf files.
Gate Fold Leaflet Printing with FREE UK Delivery
Gate Fold Leaflet Printing
In the gate fold, the two ends of the paper are folded equally for the two ends to meet at the center, creating a "gate". This folding style is very popular for many applications such as in brochures, menus, programs and wine lists. It exudes a very sophisticated style and is now being used for many other promotional items like property brochures, and other interesting marketing campaigns. If you want high quality gate fold leaflet printing, Quadrant Print offers the most incredible printing services that you can take advantage of.
Our goal at QuadrantPrint.co.uk is to provide a high quality, fast and convenient printing service that exceeds expectations. While some companies may be excellent in providing quality, they lack in the dedication to provide fast and on time service. We bridge that gap by providing the best quality service that will be ready in a few days time or even after 24 hours depending on your specific needs. We have the machinery and modern printing technology for fast and Eco-friendly printing processes. We also choose high quality paper to help transform your artwork into an effective marketing tool. With our printing service, you can be sure that we give the best quality for your needs.
Enjoy a high class gate fold leaflet printing service with QuadrantPrint.co.uk. You can count on us to transform your ideas and execute them effectively on paper as a powerful marketing tool. We can assure you consistency and high quality service that you can depend on.